FOR SHORT FIBER (SPUN YARN)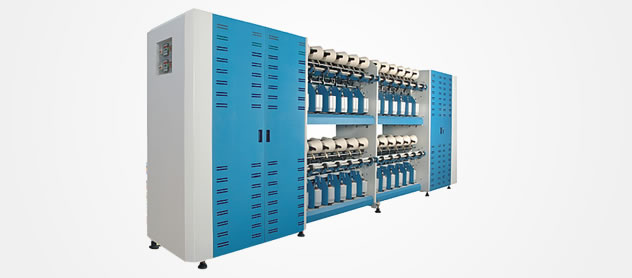 TFO Spun Yarn : Salient features
Double layer (deck) offers more production in less space
Machine construction offers long lasting maintenance free performance.
Operating panel with motor protecting devices & smooth start.
Rational design of the gearbox permits ideal take-up. The driving parts ate automatically Lubricated by the oil pump for optimum performance.
Low power consumption.
Winding completed or yarn broken, auto lifter support lift automatic to avoid yarn grind.
Cradle pressure mechanism for uniform density.
The range of movement of guide roller is very wide. This additional range allows customers to set winding tensions over a wide range, to suit diverse requirements.
OVERFEED ROLLER
The roller helps to adjust take-up tension at ease.
It is also used for soft package for dyeing.
AUTOMATIC UPLIFT MECHANISM
Winding completed or yarn broken, Auto Lifter Support lift automatic to avoid yarn grind, and also makes easy for operation.
Optional
Tailing Device
Oiling Device
Control ring
Waxing device
Gearless inverter driving system
Air threading for single Layer (deck)
All models also available in single layer (deck)
Technical Specification
Technical Data
Model No. SP110
Model No. SP120
Model No. SP140
Spindle Diameter
110mm
120mm
140mm
Spindle Gauge
225mm
225mm
240mm
No. of Spindles
240
264
312
360
408
120
132
144
No. of Section
10
11
13
14
17
10
11
12
Connected Power in H.P.
10x2
12.5X2
12.5X2
12.5X2
15X2
20X1
20x1
25x1
Count Range
2/30s to 2/80s
2/30s to 2/80s
Spindles/Section
24 Nos.
24 Nos.
12 Nos.
Form of Operation
Double Sides, Double Layer
Double Sides, Single Layer
Spindle Speed
4.000 to 12.000 RPM
Twist Range
6 to 75 Tpl / 250 to 3000 TPM
Start Mode
Star Delta Slow Start
Tensioner
Capsule
Spindle Drive
Tangential Belt Drive
Spindle Brake
Individual Brake
Take Up System
Cradle With Auto Lifting System
Specification of Supplied Packages
SP110

SP120

SP140

Maximum Take-up Capacity
Shape of the take up package
Maximum take-up capacity (Appr.)

Cylinder

Cone Package

SP110
SP120
SP140
Approx.
2kg
Approx.
2kg
Approx.
2kg
Machine Dimension in mm.

Request A Quote